Order Online
Click the Add to Cart button below the book of your choice and proceed to a secure checkout through PayPal.

Order By Mail
Make check or money order payable to Indelible Mark Publishing.
Send to:
Indelible Mark Publishing
6498 Lowry Drive, #4, West Linn, OR 97068
Be sure to include your name, address and telephone number, the book title, number of copies and if there are any autograph requests with your order. Include your check or money order for the full amount.

Order By Phone
503-742-1863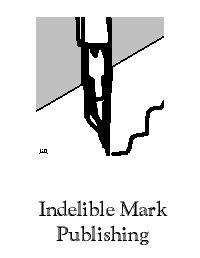 The One Idea That Saves The World: A Call to Conscience and A Call to Action
by Laurence Overmire

---

Price: $18.95
FREE DOMESTIC SHIPPING ($4 discount on International Shipping)

Autographed Copies: Add $5.00 for each author-autographed copy

Book specifications: Perfect bound softcover / 180 Pages / 5½" x 8½" / ISBN 978-0-9795398-4-8

For bulk order discounts, please contact us at info@indeliblemarkpublishing.com or 503-742-1863




ORDER NOW (shipping will be calculated in the shopping cart after you enter your destination)


Please ship my book to me:


Gone Hollywood
by Laurence Overmire

This is a limited collector's edition of 100 copies. Each copy is numbered and initialed by the author.

---

Price: $16.00
FREE DOMESTIC SHIPPING ($4 discount on International Shipping)

Autographed Copies: Add $5.00 for each author-autographed copy

Book specifications: Perfect bound softcover / 80 Pages / 5½" x 8½" / 32 B&W Photographs /
ISBN 978-0-9795398-1-7



ORDER NOW (select from the drop-down menu below)


Please ship my book to me: (shipping will be calculated in the shopping cart after you enter your destination)






One Immigrant's Legacy The Overmyer Family in America 1751-2009
by Laurence Overmire

---

Price: $84.99
FREE DOMESTIC SHIPPING ($4 discount on International Shipping)

Autographed Copies: Add $5.00 for each author-autographed copy

Book Specifications: Hardcover, navy blue with gold foil stamping / 8½" x 11½" / 350 annotated pages / color family coat-of-arms / over 1000 biographies and family stories / over 450 B&W photos, maps and illustrations / ISBN 978-0-9795398-2-4

ORDER NOW (select from the drop-down menu below)

Please ship my book to me: (shipping will be calculated in the shopping cart after you enter your destination)

Report From X-Star 10 Sci-Fi Poetry
by Laurence Overmire

---

Price: $15.99
FREE DOMESTIC SHIPPING ($4 discount on International Shipping)

Autographed Copies: Add $5.00 for each author-autographed copy

Book specifications: Perfect bound softcover / 72 Pages / 5½" x 8½" / 17 B&W Author Illustrations / ISBN 978-0-9795398-1-7



ORDER NOW (select from the drop-down menu below)


Please ship my book to me: (shipping will be calculated in the shopping cart after you enter your destination)

Honor & Remembrance A Poetic Journey through American History
by Laurence Overmire

---

Price: $10.00
FREE DOMESTIC SHIPPING ($4 discount on International Shipping)

Autographed Copies: Add $5.00 for each author-autographed copy

Book specifications: Saddle-stitched softcover / 40 Pages / 5½" x 8½" /
ISBN 978-0-9795398-0-0



ORDER NOW (select from the drop-down menu below)

Please ship my book to me: (shipping will be calculated in the shopping cart after you enter your destination)